Hand Hygiene Practice is one of the Good Hygiene Practices. And using Hand Sanitizer is a good habit in hand hygiene practices. Alcohol-based hand sanitizer is more convenient compared to handwashing with soap and water in most situations in the healthcare setting. Among healthcare workers, it is generally more effective for hand antisepsis, and better tolerated than soap and water. The use of hand sanitizer is a perfect solution for cleaning your hands and it is important for the prevention of contagious diseases.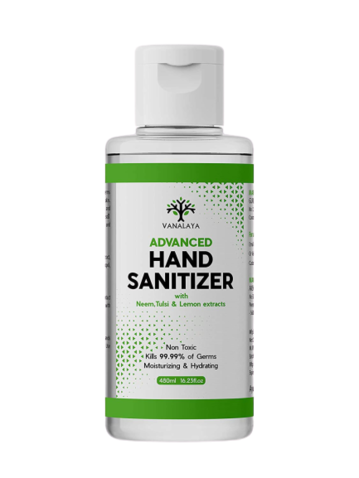 Vanalaya's Hand Sanitizer is paraben-free and has been made with real organic lemon, neem, and Tulsi extracts. It will leave your hands feeling refreshed, naturally moisturized, without the sticky residue. Help keep your family and those you care for kill germs on their hands with advanced hand sanitizer. Washing with soap and water is not always an option and can be harsh on the skin. Using hand sanitizer is a more convenient and gentler way to kill germs.



ALCOHOL BASED SANITIZER: Made of alcohol to improve skin health and hygiene kills more than 99.99% germs, non-toxic, non-irrational without damaging the skin.


NON-IRRITATING SANITIZER: Quickly kill germs and viruses and bacteria on your hands without irritating or drying out your skin. The hand sanitizer will leave your hands feeling smooth and refreshed.


WATER FREE SANITIZER: With this no-rinse hand sanitizer, you don't need to wash your hands at all, and you can use it on the go! Better yet, it won't leave a sticky or tacky residue like other hand sanitizers. A great alternative when soap and water are not available


EASY TO CARRY: This Amino acid hand sanitizer takes up little space, so you can take it with you. Gentle ingredients safe for frequent use.


MOISTURIZING SANITIZER: Soft and non-irritating, does not hurt the skin, has a water retention and hydration function


Hand sanitizers are your saviors on-the-go and prevent the spread of many pathogens. The alcohol in a hand sanitizer breaks down the cells and cell metabolism in bacteria and viruses. Click here to buy your Hand Sanitizer.