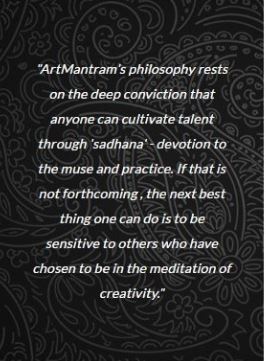 Making Art a part of Everyday Life of Everyone. Our Triple Aim is to promote ART, ARTISTS and ART AWARENESS.

ART PROMOTION: We promote Art, Craft, Design, Heritage and Culture through multiple channels.

ENCOURAGING ARTISTS: We work with artists across the spectrum, from world renowned Masters to  emerging young artists and amateurs. In addition to Festivals, Exhibitions, Workshops and Camps, we also offer mentor young artists through residencies and scholarships.

ART AWARENESS: We create audiences through making art accessible outside of art galleries and museums. Through Festivals and Public Art Events such as Art in the Park, and Art Therapy, we reach outto those who do not regularly interact as consumers or producers of art. In addition, we also specifically address areas of social concern through providing art therapy and other necessary resources to children from underprivileged backgrounds, those undergoing cancer treatment, those special needs and women who have been abandoned and violated. We also support the education of rural children.