Most traditional ceramic products were made from clay (or clay mixed with other materials), shaped and subjected to heat, and tableware and decorative ceramics are generally still made this way. In modern ceramic engineering usage, ceramics is the art and science of making objects from inorganic, non-metallic materials by the action of heat. It excludes glass and mosaic made from glass tesserae. There is a long history of ceramic art in almost all developed cultures, and often ceramic objects are all the artistic evidence left from vanished cultures. Explore a wide collection of ceramic products at our online store.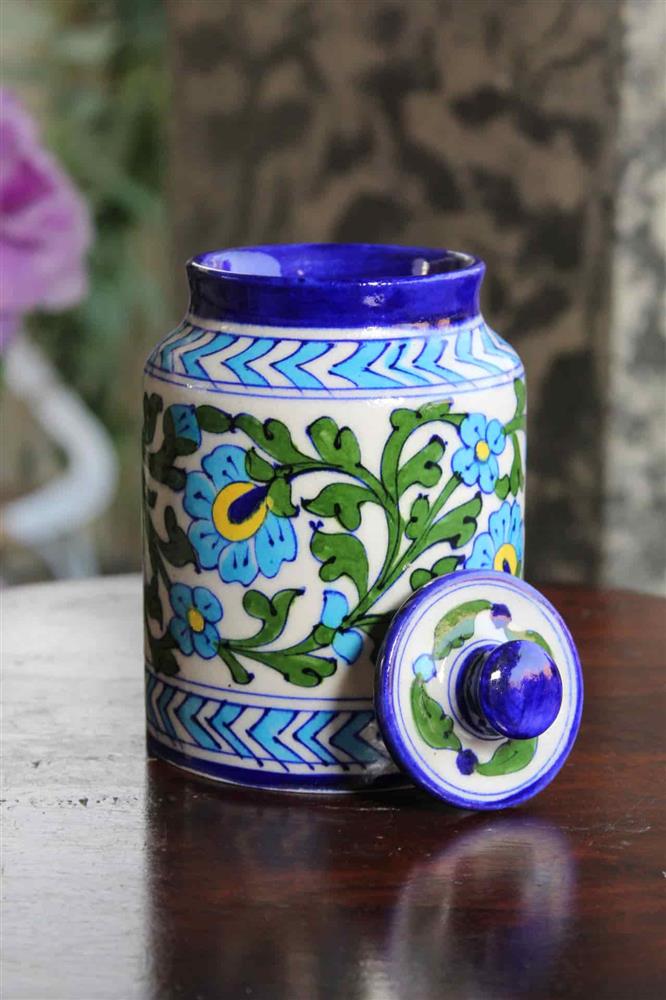 Elegant & Beautifully designed Small Floral Sugar Pot is Perfect to keep all your Sugar & Masala. Handcrafted & Colored by using Beautiful design it's a must-buy product of Blue Jaipur make it yours today. Blue Pottery is widely recognized as a traditional craft of Jaipur, though it is Turko-Persian in origin. The name 'blue pottery' comes from the eye-catching Cobalt blue dye used to color the pottery. It is one of many Eurasian types of blue and white pottery, and related in the shapes and decoration to Islamic Pottery and, more distantly, chines pottery.
Blue Pottery is completely handmade Jaipur blue pottery, made out of a similar frit material to Egyptian faience, is glazed and low-fired. No clay is used: the 'dough' for the pottery is prepared by mixing quartz stone powder, powdered glass, Multani Mitti (Fuller's Earth), borax, gum, and water. This magnificent pot is available in 5 designs.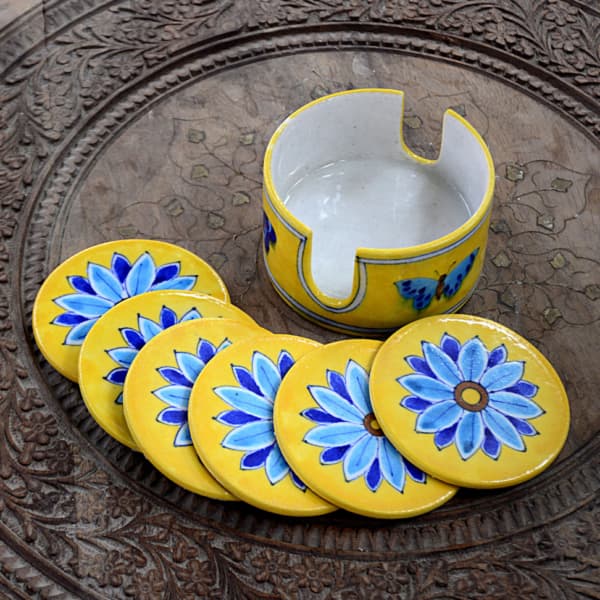 These eye-catching Coasters are perfect for placing beneath teacups, wine glasses, tumblers, and mugs that will adorn your home/office dining table or central table. When you're entertaining guests in your living room or dining room or out on the patio, you want your decor to impress. At the same time, you want to make sure that your furniture looks just as good when your guests go home as it did when they arrived. Handmade By our Skilled Artists elegant and authentic Blue Pottery Coaster set is perfect for your home decor. Our Ceramic Coasters are available in 5 designs. At Wecomart, we have a wide collection of coasters that will adorn your home/office dining table or central table. Explore our wide collection of coasters.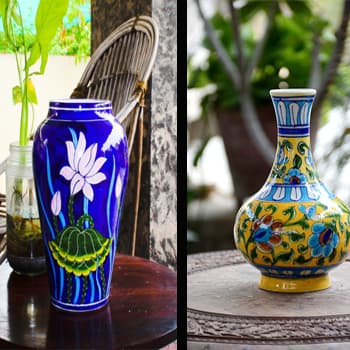 "Floral Surahi Vase" these vases are beautiful and elegant made with love. Unique in design and handcrafted with love. The omniscient eye-catching blue of this pottery is derived from cobalt oxide. Unarguably, the king of Indian Pottery; Blue Pottery items are a luxurious novelty to own. It employs highly skilled artisans to draw and paint the motifs of flowers, animals, birds, etc. by hand. This big ceramic vase filled with flowers decoration should be the first thing to welcome your guests. Hand-thrown on a potters wheel and then glazed in shades, this beautiful vase has a modern feel. This ceramic vase is an effortless addition to any decor. Can be used indoors or outdoors. Check out all the 3 designs at our online store.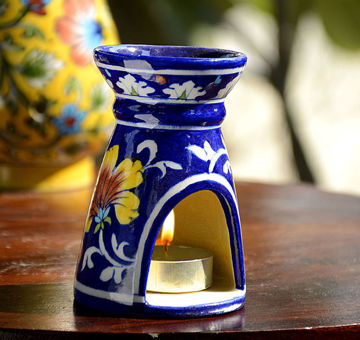 Decorated with white tuberoses in white, this diffuser is replete and bright with a darker shade of blue. Ideal to make your home come alive with idyllic and sweet fragrances, this diffuser is glazed and shaped perfectly!. Beautifully designed by our artisans, handcrafted Blue Pottery Oil Diffuser is beautiful and unique. It will enhance the beauty of your house. This oil burner will bring a sense of richness to your room along with a beautiful scenic sight that will enlighten your mood instantly. Click here to explore a wide collection of Aroma Diffusers.

Inspired by our products? Visit our online store to explore more mesmerizing ceramic products.