Tooth powder is an alternative to toothpaste. Modern versions may be sold with or without fluoride. Tooth powder was historically used among the Romans to clean and whiten teeth, to fix them when loose, to strengthen the gums, and to assuage toothache. Some versions contained honey, ground myrrh, niter, salt, and hartshorn, which would be added after the initial powdering process. The use of powdered substances such as charcoal, brick, and salt for cleaning teeth has been historically widespread in India, particularly in rural areas. Modern tooth powder has been positioned as a cost-effective substitute for toothpaste, as it can be applied with the index finger without requiring the use of a toothbrush.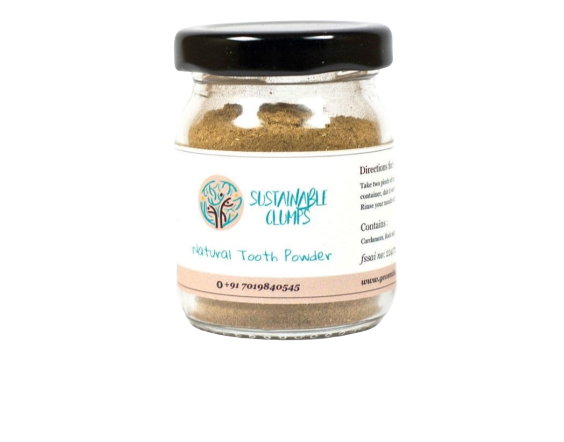 Geosmin natural tooth powder which is derived from the heart of Ayurveda is a boon to your oral health care. The carefully selected ingredients deliver a fresh breath and improve your gum health with every use. This organic tooth powder can replace your toothpaste as it consists of potent ingredients. It has natural teeth whitening products such as clove, long pepper, babool bark, and cinnamon which are historically known to freshen the breath. While these ingredients are busy ensuring your gum health, rock salt adds a nice sparkle to your teeth. This herbal tooth and gum powder act as a natural toothpaste for sensitive teeth. It is an invaluable tooth powder as it gets rids of bad breath and takes care of your overall oral health.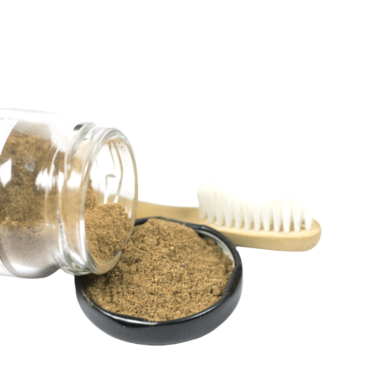 Natural Toothpowder made of 4 major ingredients packed in a recyclable glass jar.
Acacia arabica
Cardamom
Piper Longum
Rock salt
Acacia arabica: This bark is used for anti-inflammation and to strengthen the roots. Reduces the toothache. An older study trusted Source from 1999 showed that this herbal tooth powder cleaned and cleared well over two-thirds of tooth plaque, and nearly 100 percent in some cases.
Cardamom: It used to prevent gum diseases (periodontitis) and tooth decay. Cardamom may help fight bacteria in the mouth, a common cause of bad breath and cavities.  A recent study found that cardamom seeds and fruit could help improve oral health due to their anti-inflammatory and antioxidant properties.
Piper longum:  It helps to protect us from infections caused by bacteria and kills the germs. Removes the bad odor from the mouth.
Rock salt:  It arrests the bleeding, helps to cure wounds, keeps the teeth whitening, and recovers Enamel degradation. Rock salt is also used as a home remedy for various digestive ailments, including stomach worms, heartburn, bloating, constipation, stomach pain, and vomiting.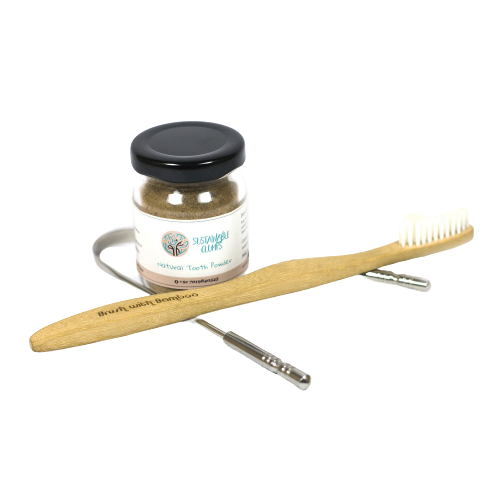 Perfect Oral care set for eco-friendly and zero waste living. It includes a brush with a bamboo adult toothbrush – Organic, a stainless steel Tongue Cleaner, and a  Natural Tooth Powder (20g). Check out the other oral care products from our public store.