Cocoa butter is obtained from whole cocoa beans. For use in chocolate manufacture, the beans are fermented before being dried. The beans are then roasted and separated from their hulls to produce cocoa nibs. About 54–58% of the cocoa nibs is cocoa butter. The cocoa nibs are ground to form a cocoa mass, which is liquid at temperatures above the melting point of cocoa butter and is known as cocoa liquor or chocolate liquor.
Uses of Cocoa Butter?
Cocoa butter is a very stable fat and is unlikely to go bad or rancid when heated. Cocoa butter is primarily used in the production of chocolates and desserts. It is a Vegan butter substitute for a lot of dessert and cookie recipes too. However, it is also widely used to make assorted beauty products such as creams, lotions, chapsticks, skin hydration, etc.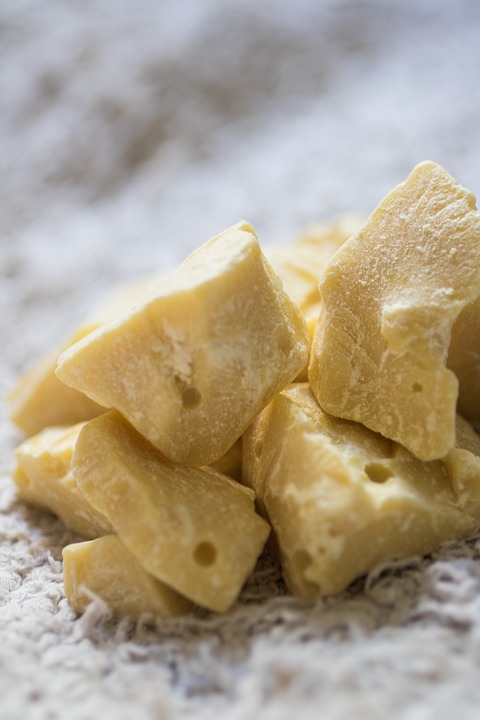 How is Cocoa Butter beneficial?
Cocoa contains certain antioxidants called "polyphenols". Polyphenols have a wide application in the beauty industry as they are stated to be extremely beneficial in maintaining good skin health, improving skin elasticity, protecting skin from sun damage, and reducing inflammation. Some research also indicates that antioxidants are good for heart health.
Application Areas?
As a moisturizer: Cocoa Butter & Shea Butter Moisturizing Lotion with Vitamin E and coconut oil for Face and Body. Shea butter is an excellent natural moisturizer and has high oil content and fatty acids that deeply penetrate the skin and cause skin cell regeneration. Cocoa butter is often used to hydrate various areas of the body due to its high lipid content.
Restore Skin Balance: Our natural facial moisturizer repairs damaged cells stimulates new cell growth and restores your skin's natural 5.5 PH balance.
Deep Hydration: Our natural face cream will moisturize to the base of your skin, not just on the surface, which lasts up to 8-12 hours. The non-greasy formula fully absorbs and leaves no residue. A little goes a long way to instantly sooth dry, damaged skin.
In Food Products: Cooking with cocoa butter in chocolate pastries gives chocolate its flavor and smoothness. In different dessert recipes such as Bavarian, add some grated food-grade cocoa butter to give it a delicious "hidden" chocolate flavor.