Indian spices include a variety of spices grown across the Indian subcontinent (a sub-region of South Asia). With different climates in different parts of the country, India produces a variety of spices, many of which are native to the subcontinent, while others were imported from similar climates and have since been cultivated locally for centuries. Spices are used in different forms: whole, chopped, ground, roasted, sautéed, fried, and as a topping. They blend food to extract the nutrients and bind them in a palatable form. Some spices are added at the end as a flavoring and are typically heated in a pan with ghee or cooking oil before being added to a dish.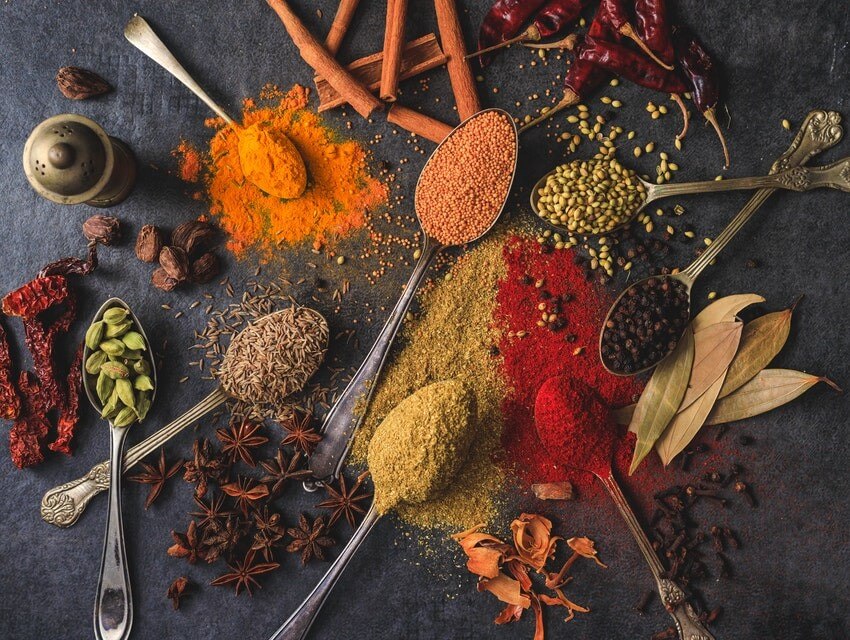 Spices in India were not only used in food, but they were also used to cure ailments too. They flatter our sense; smell with delicious fragrance, tongue with unique taste and eyes with vibrant colors. At the present time, India is one of the largest exporters of spice all over the globe. The environment of India is perfect; heavy humidity, high rainfall, dry and hot weather favors the conditions for the growth of different spices.


To explore these magical ingredients, we've profiled some of the most commonly used spices in India.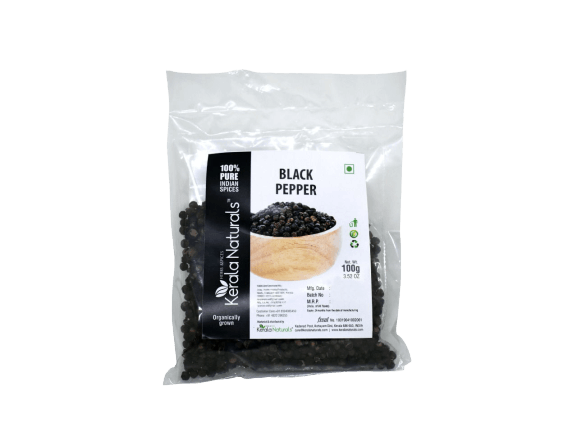 Organically grown without pesticides and fertilizers, Pure, Natural and Organic, Black pepper (Piper nigrum) is a flowering vine in the family Piperaceae, cultivated for its fruit, known as a peppercorn, which is usually dried and used as a spice and seasoning. When fresh and fully mature, the fruit is about 5 mm (0.20 in) in diameter and dark red, and contains a single seed, like all drupes. Peppercorns and the ground pepper derived from them may be described simply as pepper, or more precisely as black pepper (cooked and dried unripe fruit), green pepper (dried unripe fruit), or white pepper (ripe fruit seeds).

Black Pepper reduces cholesterol levels, benefits your brain, anti-inflammatory properties. It also improves blood sugar control. Researchers hypothesize that the active compound in black pepper, piperine, may have cancer-fighting properties.
We collect fresh organic spices directly from the farmers in and around the Western Ghat region. So we guarantee our products, that are Fresh, Clean and Organic.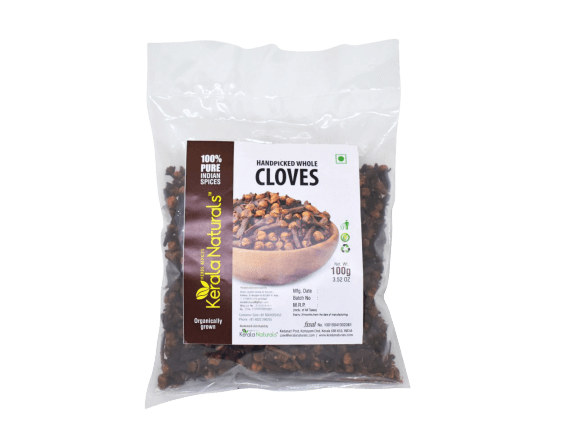 Originating in Indonesia, cloves are dried flower buds from the clove tree. They are a popular spice that people use in soups, stews, meats, sauces, and rice dishes. They are handpicked whole Cloves. Organically home-grown and free from chemical impurities. People have used cloves in cooking and traditional medicine for many years, but it is only recently that scientists have begun studying their potential health benefits.
Cloves are commonly used in Ayurveda, which is traditional Indian medicine. They have also been used traditionally to cause a numbing sensation. Some perfumes use cloves for the aroma and clove oil is sold for use as an essential oil. clove oil as a natural method for maintaining oral health due to its effect on plaque, gingivitis, and bacteria in the mouth. clove extract and nigericin, a component of clove extract, reduced insulin resistance in mouse muscle cells. Cloves are high in antioxidants, which are chemicals that play a part in reducing damage to cells that could lead to cancer.
We collect fresh organic spices directly from the farmers in and around the Western Ghat region. So we guarantee our products, that are Fresh, Clean and Organic.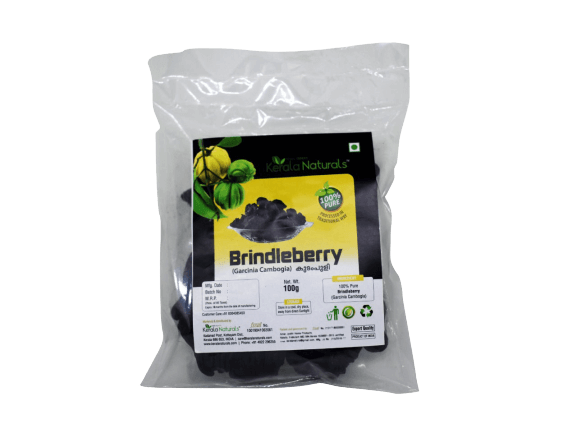 Kudampuli (scientific name: Garcinia cambogia) also known as Gambooge, Malabar Tamarind, Fish Tamarind, brindleberry, etc is an essential ingredient in all the seafood-loving kitchens in Central Kerala, the coastal South Indian state. As the name suggests (Puli = sour in Malayalam), the dried fruit is used as a souring agent in Kerala's famous fish curries and other seafood preparations. Brindle berry trees are grown in many homes across Kerala for its fruit. Dried brindle berries are an inevitable part of seafood delicacies of Kerala cuisine. Surplus ripe fruits from reliable cultivators are collected, seeded, and sun-dried under hygienic conditions till the yellowish rind turns black and leathery.
Garcinia Cambogia promotes weight loss by reducing appetite. It does this by increasing the production of serotonin. When serotonin levels are higher, appetite tends to be lower. In addition to promoting weight loss and improving blood triglyceride levels, HCA may also help to reduce the risk of developing type 2 diabetes. It does this in the following ways:
Increased insulin sensitivity
Reduced inflammation
Improved blood sugar balance and control
It helps in controlling blood sugar, boosts the digestive process, and improves cardiovascular health.
We collect fresh organic spices directly from the farmers in and around the Western Ghat region. So we guarantee our products, that are Fresh, Clean and Organic.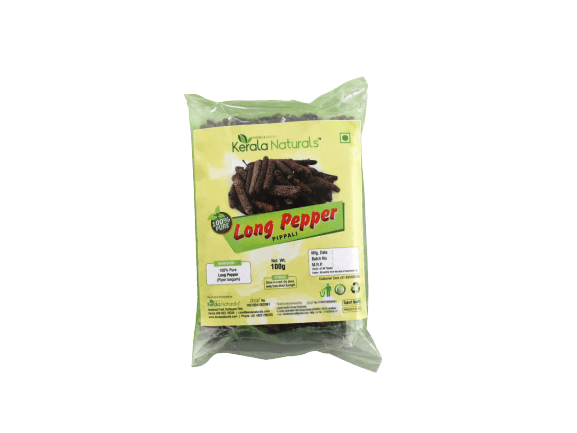 Our long pepper is sourced from Wayanad, Kerala. The Indian long pepper or piper longum is a flowering vine from the peppercorn family. It is long, black in color, and resembles a small, closed pine cone. Its flavor profile is similar to the pepper family as well, but with a slight variation and is hotter as well. Seeds and Hands bring this unique spice to your doorstep. The fruit of the pepper consists of many minuscule fruits – each about the size of a poppy seed – embedded in the surface of a flower spike that closely resembles a hazel tree catkin.

Long pepper is an important and common ingredient in many medicines of Ayurveda.  It contains various essential nutrients and compounds that contribute towards the better functioning of the body. Traditionally it is used to ease sore throat and indigestion and has many more benefits such as skincare and weight control. Long pepper is used as the main ingredient for cooking in Nihari, Indian, Pakistani, Malay, and Thai cooking. It is also an ingredient of various pickles (achaar) and preserves.
We collect fresh organic spices directly from the farmers in and around the Western Ghat region. So we guarantee our products, that are Fresh, Clean and Organic.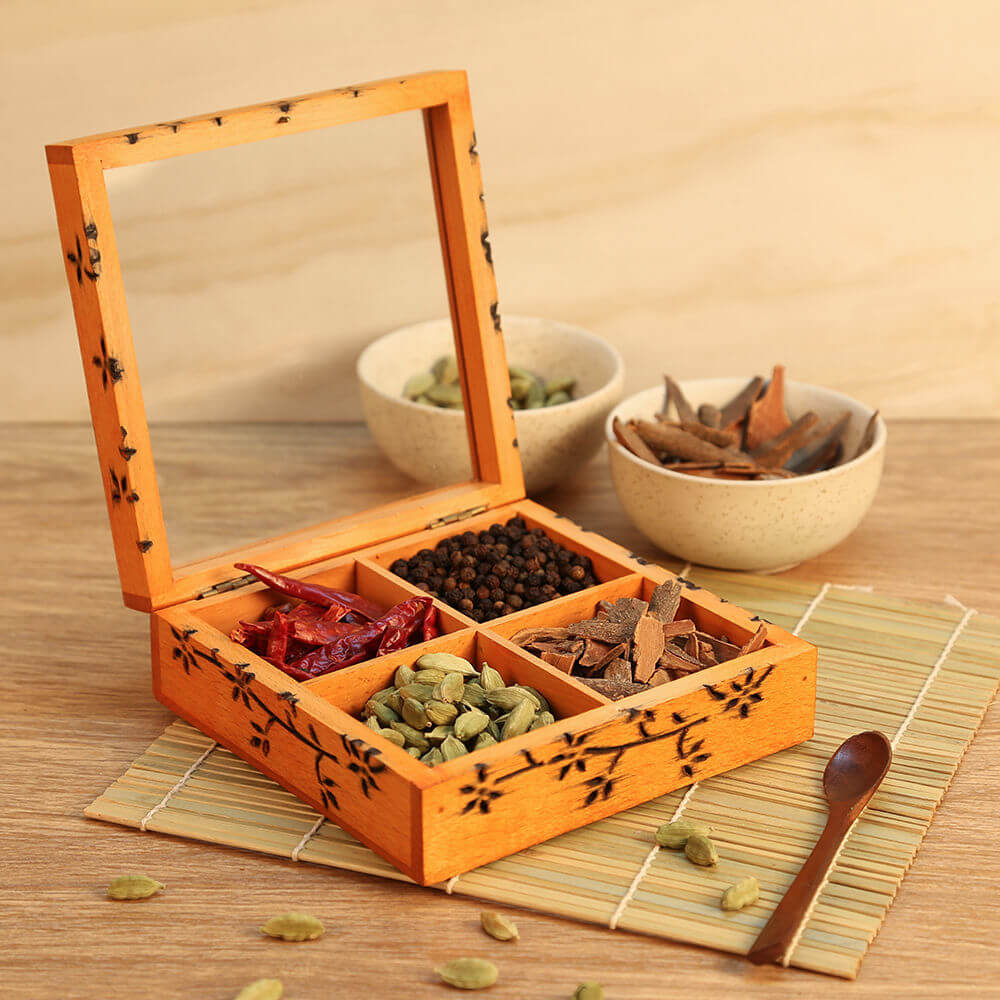 Healthy life, happy cook! Keep your kitchen collection and spice organized with this Wooden Spice Box. You will love this spice rack, at first sight, you will find it's more than worthy! This steam beach wooden box is great to store anything from jewelry to dry fruits. The finely shaped storage box featuring an excellent finish and unique pejli motifs engraved on 3 sides, comes with a unique handcrafted spoon in steam beech wood. It is Uniquely handcrafted within soothing orange color. This box has a compartment divider in the box.
Check out a wide range of Wooden Spice boxes from our online store.