Bamboo is one of nature's most versatile substitutes for the endangered rainforest hardwoods. There are so many beautiful and useful things you can do with it. Bamboo is an important component of development wherein all types of people have adequate access to. It requires little attention during its growing/production cycle and can occupy the same ecological niche as that of trees. It is well suited for agroforestry and healthy ecosystems.
The handcrafted bamboo speaker amplifier, a natural wonder, and an eco-friendly and sustainable product. It not only amplifies the sound from your mobile it also acts as a docking station for your phone and you don't forget your phone anymore. It's made from a single piece of bamboo and holds your mobile device in place as it plays music to amplify the sound.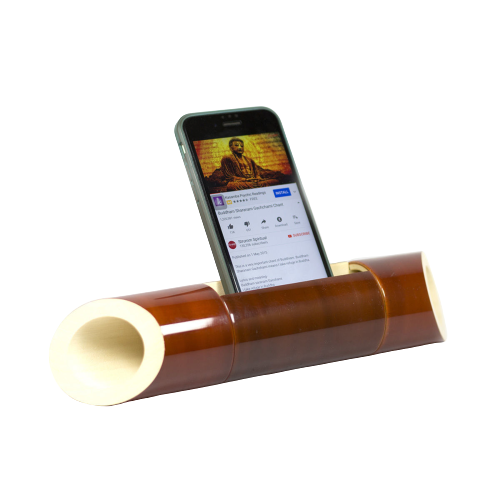 Bamboo also helps mitigate water pollution due to its high nitrogen consumption;
minimizes CO2 gases (sequesters up to 12 tons of CO2 from the air per hectare),
and generates up to 35% more oxygen than an equivalent stand of trees.
Natural Sound Amplifier & Handcrafted wooden product.


No Electricity Required and No Electronics Involved.


Great for hands-free calls, meetings, and parties. Very Portable


Ideal Eco-Friendly Gift


 Product Care
Protect from impact / sharp blows


Protect from Alcohol / Spirits


Protect from Water / Moisture


Clean with Dry Cloth or Wet Cloth with immediate drying. 


Do not expose to a temperature higher than 40 degree Celsius (104 degrees Fahrenheit)


There is absolutely no need for any additional power, being batteries, or power adapter. Sounds like a very interesting concept. Check out this unique product at our online store.