If you are dealing with a bed bug infestation, you will see remnants of their bites on your skin. Bed bugs tend to bite in a linear pattern.
Where to find bed bugs – Bed bug inspection checklist & tips:
The mattress and box spring
Bed frame and head/foot boards
Other furniture
Walls and carpet
Electronics and appliances
Tips: 
Look in any place that offers darkness, isolation, & shelter to the bed bug.
Inspect conterminous rooms where an infestation is found. Even when the bed bugs themselves cannot be found their hiding places can be located by looking for the spots of fecal material they often leave.

Herbal Bed Bug Repellent has a naturally pleasant fragrance. Re-adjust the spray pattern to a mist by turning the nozzle. A low fine mist is best for most spraying, but you may need to use a stream to get into some crevices & cracks. After spraying at the crevices and cracks, the bed bugs will be seen coming out of the crevices. At this point, Herbal Bed Bug Repellent has to be sprayed directly onto the bugs. There is no need to add any water to it. Spray with a low-pressure sprayer into the areas where the bed bugs are hiding. Typical areas include bed frames, headboards, under beds, baseboards, moldings, etc. Remember to apply in the joints and crevices of furniture.
Spray around and under the bed and on the baseboards close to the bed.
After removing the drawers from the furniture, the inside of the cabinetry should be sprayed as well as the bottom and right & left sides of the drawers.
Spray around the inner side of closets, door frames & doors.
Spray molding at the top and bottom of the room.
Sprinkle where the bed touches the ground, spray chairs and beneath chairs.
Do not apply to furniture surfaces or mattresses where people will be laying or sitting.
Spray all baseboards, loose plaster, behind bed frames and headboards, underneath beds and furniture, and bed-springs and bed frames.
Herbal Bed Bug Repellent Refill 1 Liter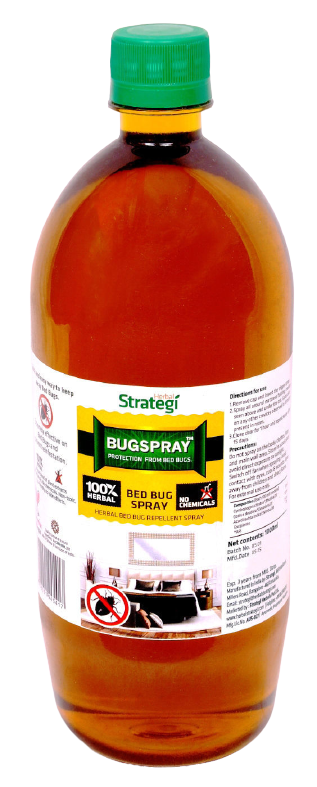 Bed bug repellent unique blend of aromatic oils and plant extracts, 100% herbal, no chemical, nontoxic, eco-friendly & safe. No side effects, cruelty-free and vegan.
Precautions: Do not spray on the body, clothes, floor, and main wall area. store in a cool place/avoids direct exposure to sunlight. Switch off the fan when spraying. Avoid contact with eyes, cuts, and wounds. keep away from children and direct flame. For external use only.  
Direction For Use: 
Remove cap and insert trigger sprayer. Open windows and doors of the bedroom
Spray behind the bedding area of the mattress (if you notice any silver eggs). In the crevices on all four sides and above and under the cot. Also spray on to the crevices in walls and furniture in the bedroom. Ensure that the nozzle is kept close to the crevice while spraying so that the area sprayed is wet with bug spray.
Within minutes, you will observe bedbugs coming out of the crevices. Now spray directly on the bedbugs so that they get moist. The bed bugs will die immediately as their cuticle gets dissolved. The spray will act on all stages of bed bugs from eggs to fully grown adults.
Repeat spray after every 3- 10 days till such time that no bed bugs come out of any of the crevices. When no bed bugs are seen coming out, you have been successful in eradicating them from your bedroom area.
Your bedroom can be used immediately as bug spray is safe. Nontoxic and eco-friendly.
As it's a herbal product, you will not have any reactions that might harm you or the children around you. Visit our online store for more Herbal Products.