Licorice root extract contains the antioxidant glabridin and licochalcone A. They both have powerful anti-aging and skin-soothing properties. That means licorice root extract can combat hyperpigmentation: those annoying dark marks you get from sunspots or acne scars that don't just fade away. Licorice Root Powder helps to Soothe and Hydrate Skin, Fade Dark Spots, Natural Sun Protection.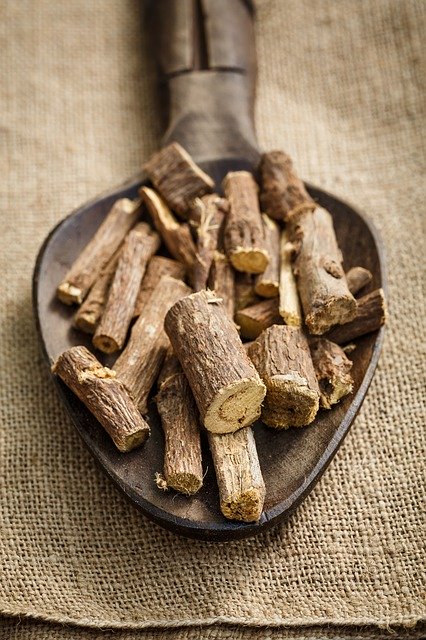 Licorice - a plant with many virtues


The licorice is a plant which belongs to the family of Fabaceae. They usually flower during the months of June and July. This plant is considered as a perennial plant, a plant that will live for several years. They can be easily identified by the purplish color of its flowers.


A root with recognized healing effects


The medicinal uses of licorice were recognized in many cultures from ancient times. It was used in the traditional medicine of Ancient India. It stimulates the prana energy within and has anti-inflammatory properties. A scientific committee that was charged with testing and validating the properties of medicinal plants recognized licorice effectiveness in treating digestive disorders and inflammation of the respiratory system.



Licorice powder is mainly used for its sweetening and softening qualities: sweets, sweet drinks, herbal teas, syrups, desserts. The medicinal uses of licorice powder is that it helps in bringing relief to various ailments like sore throats, bronchitis, ulcers. The licorice powder in adequate quantity with boiling water makes a perfect healing drink. It can also be applied externally to relieve irritation and skin problems.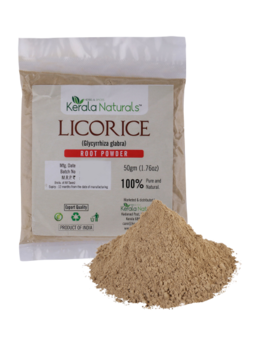 1. The health benefits of licorice powder for the respiratory tract: Glycyrrhizin contained in licorice reduces inflammation of the airways. It inhibits the growth and pathological effect of many viruses. Recommended for the treatment of respiratory disorders, this plant relieves symptoms such as coughs and sore throats and helps to thin the mucus. It can fight viruses that attack the airways.
2. Licorice against inflammation: Its action on the adrenal glands makes it effective in the treatment of chronic fatigue syndrome. It is also useful in almost all inflammatory conditions. Thus, it is recommended in the treatment of hepatitis, as it helps reduce inflammation of the liver and inhibit the action of viruses that are often the cause of this disease.
3. The virtues of licorice to aid digestion and counteract stomach upset: Antispasmodic, licorice fights digestive disorders, including epigastric bloating, slow digestion, belching, flatulence. It is also useful in the case of ulcers, gastritis, and functional coagulopathy. Laboratory studies have shown in vitro that its flavonoids kill the bacterium Helicobacter pylori, which is involved in stomach ulcers. It can also help to cure mouth sores and mouth sores.
4. The estrogenic activity of licorice: Glycyrrhizin exerts a slight estrogenic activity: it binds to the estrogen receptors of the body. Thus, when the estrogen level is too high (this is the case in premenstrual syndrome ), glycyrrhizin blocks the receptors of these hormones and reduces their action; when estrogen levels are low (such as after menopause), glycyrrhizin has a mild but effective effect. Licorice is also recommended for the treatment of certain menopausal or menopausal disorders.
You want to make sure you treat your skin with the utmost care and that's why adding natural alternatives, like licorice root extract, is great for treating common skin ailments and helping you have a beauty routine that is 100 percent good for you. Check out the other skincare products at our online store.