How am I made?
My journey starts with an Order on our website. I get excited that we are going to be part of a family's nutrition and go on a long journey.
On the day of the order, the Motia's team picks up the ingredients. We are stored in a large fridge and a freezer ( ooh so cold!!) so that we stay rich till we get to the Kadai. ( metal Pan) We are sorted and weighed in a cute weighing machine. Here is where I meet all my teammates -- wheat, Jaggery, Almonds, Walnuts and we jostle to find space in the pan.
We are so cold to start with that we cannot talk.! Frozen. Slowly, we thaw out and start rubbing the goodness on one another. We are looked at closely and handled with a Gloved hand. ( how I wish to feel the soft hand on me !).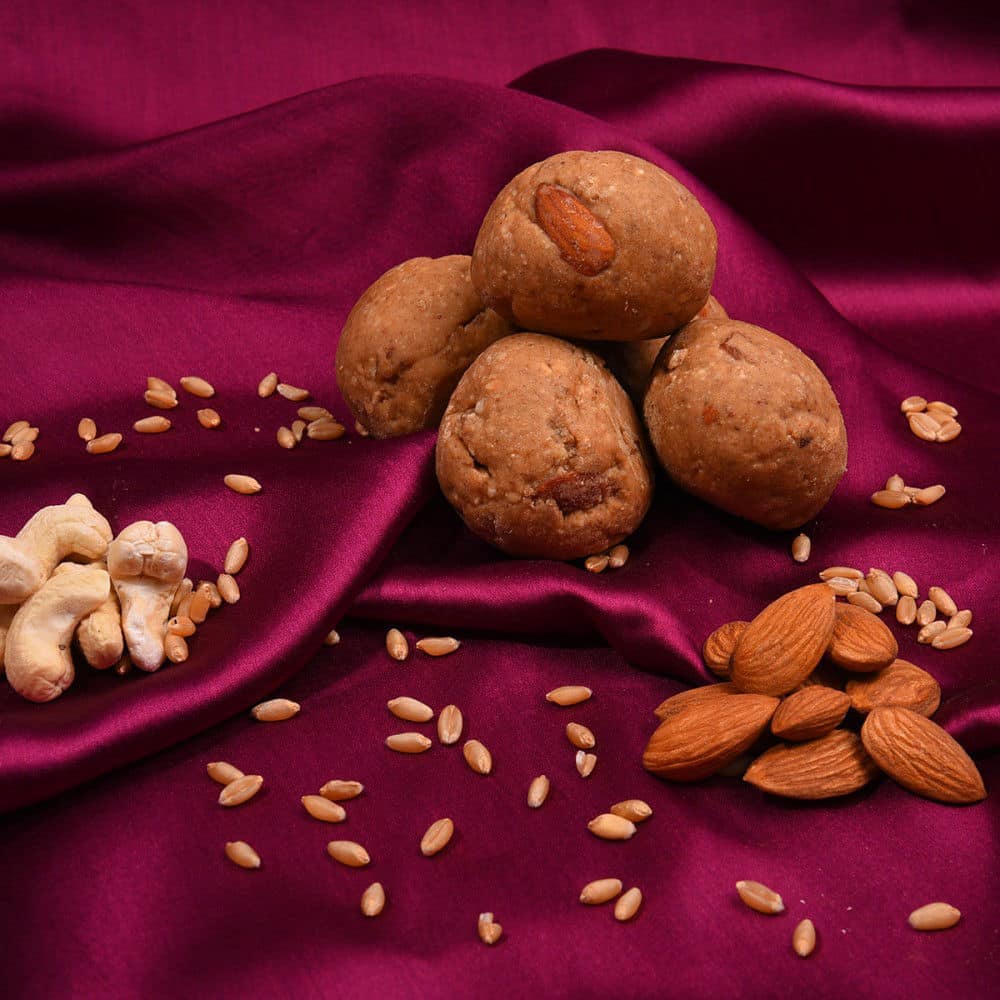 Within an hour we find ourselves transferred to a Mixie jar. which has sharp blades. I know that we are going to be pounded and powdered cut and strewn around the jar at dizzying speeds. All my teammates get dizzy with only some Almonds who stay put against the outrage. Alas ! he will be discarded.!
After we all are powdered, we stay warm enough to have forgotten the freezer. The gloved hand passes us through multiple Metal Sieves and makes us lose some of our fatty brethren. Only the fine guys stay together and move on! At this stage, we are a fine powder of Nutrient-rich - a mix which is my DNA.
I am now cooked in an iron KADAI ( very important ) where I retain and ingest the goodness of the Kadai. Now it starts getting hot, hotter, and hottest. We blend into each other whirl around and enjoy the fun. At some point when we are super hot molten ghee is sprayed on us which cools things for a few minutes. As we dig in the heat,  Ghee binds all of us oozing through all of us like a molten volcano tying all of us together.
Slow cooking! This is it. Now we are stirred around at a low flame. We play a game of superheating as we hit the center of the PAN and pass through to the sides where it is bearable. A metal rod keeps stirring us pushing us and looks this is never-ending.
The game comes to an end as we show our true colors. Golden brown-reddish at some places. Check out all the Nutlads from Motia's at our online store.