Figs are extremely sweet fruits with several crunchy seeds. These can be consumed fresh or dried and in fact, dried ones are available all through the year. As the fruit is dense in natural sugars it is known as nature's candy. It is available in various colors ranging from purple, red, green, and golden.
Fig jam is made up of ripe figs and is mildly flavored with a distinct sweet taste. Providing plenty of fig jam benefits as it is a rich source of dietary fiber and are packed with nutrients, such as calcium, Vitamin A, Iron, and many more. There are many reasons why you should buy fig jam as it can be used in many ways, such as a spread for your sandwich or in combination with yogurt, ice cream, or crackers. Fig jam has been known to be beneficial in various health problems, such as constipation, diabetes, eye diseases, etc. Figs, when consumed in raw form, also gives a much-rejuvenated look to your hair and skin.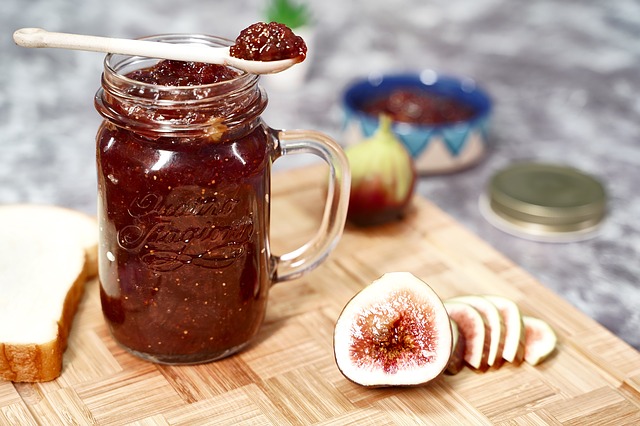 Ayurveda chiefly uses the latex of the fig as medicine which contains an enzyme fiction that possesses a powerful anthelmintic property that battles worm infestation. The key ayurvedic properties of anjeer include a diuretic, laxative, and expectorant. It is also highly beneficial in treating leucoderma as the presence of furocoumarin a chemical that acts on the white spots on the skin and cures the condition. It is suggested that the patient should eat anjeer for two to three months period for treating this condition.


Relieves constipation: Fig jam is highly beneficial for constipation as it is rich in fiber and softens the stools. It increases the bulk of stools and allows it to pass through the body smoothly


Beneficial in Piles: By softening the stools, it reduces the strain on the rectum. The seeds in figs are the active ingredients that are good for piles. By relieving constipation, it helps in the treatment of piles.


Promotes Liver Health: It removes obstructions in the liver and also prevents hepatic damage. It also assists in secretion of bile juices which is responsible for digestion of food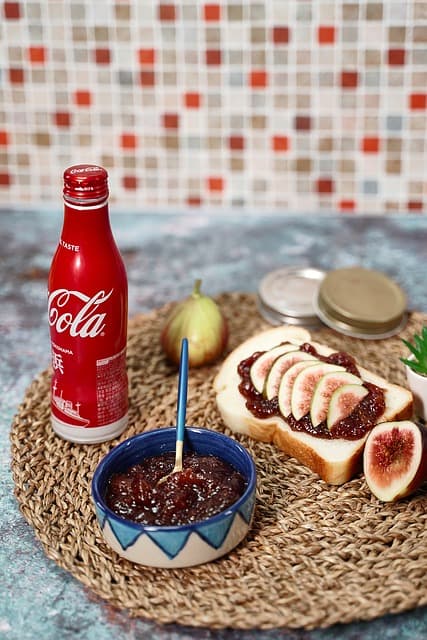 Beneficial in asthma: Fig jam helps in bronchial asthma by moisturizing the mucous membrane and draining the phlegm. It also fights the free radicals that can trigger an asthma attack.


Improves your sleep patterns: The amino acid Tryptophan in fig jam promotes the creation of melatonin, which is needed for good sleep. It also helps in the synthesis of vitamin B3, which induces sleep.


Gives an energy boost: Fig jam's carbohydrate and sugar content help to boost the energy levels of your body. It provides the energy needed to perform our regular chores.


There are various applications of a fig jam:

As a table spread: Toast your bread and spread this delicious fig jam as your breakfast. It is a sweet breakfast dish which also nourishes the body with its micronutrients

As a dessert: Garnish the yogurt with a spoon of fig jam to give it a taste of fig and sweetness. You can also add cut fruits such as orange, kiwi, apple to this dessert.

Top up with Ice cream: Fig jam tastes exceptionally well with vanilla, strawberry icecreams. You can also add some choco chips, fennels.

Vanalaya Fig Jam is a pure organic jam made from figs that are naturally ripe and does not contain any artificial color or preservatives. You can easily buy the fig jam online also by logging onto our website and placing an order.