Sustainable living is a lifestyle that attempts to reduce an individual's or society's use of the Earth's natural resources and personal resources. Sustainability focuses on meeting the needs of the present without compromising the ability of future generations to meet their needs. Style and quality can be Sustainable, and the products you use are proof of that.
Eco-products are "products that do not harm the environment whether in their production, use or disposal"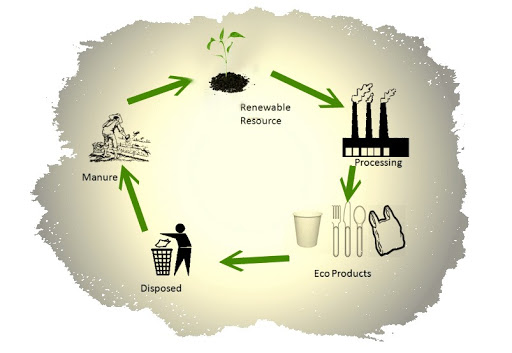 Going Zero Waste


Going Zero Waste includes products that can be reused and recycled. Let us look at some of the products that are suitable for the Sustainable style of Living.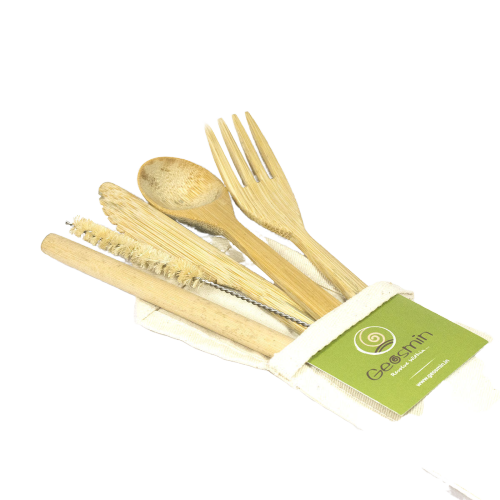 Bamboo cutlery, manufactured by Geosmin is made using natural bamboo that is sustainably farmed and has little to no environmental impact. Our Reusable Bamboo Cutlery set includes Knife, Spoon, Fork, Straw, Sisal cleaner for Straws, and Cotton Travel Pouch. Ideal for using at home, It is also a great companion for eco-travelers as it is light in weight and also comes with a cotton travel bag. Reusable bamboo cutlery sets are the new zero-waste eco-product of the season. So what are the benefits? Why should you switch to bamboo cutlery? Let's find out.
Strong, durable, and fit for purpose
Stain and Odor Resistant
Attractive Appearance and promotes a positive lifestyle
Smooth Finish
Affordable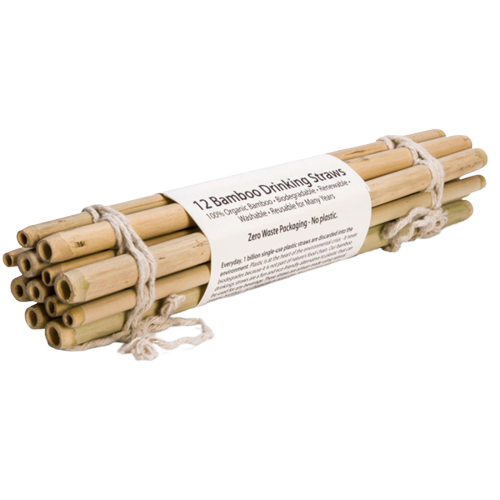 Our bamboo drinking straws are a fun and eco-friendly alternative to plastic that can be used for any beverage. Our travel kit is great for keeping in your backpack or purse - so that you will always have reusable straws with you when they are needed. All of them are handcrafted by artisans from North East of India and each piece is a master craft by itself and is distinctive compared to another. Extreme care is taken to provide a smooth finish to avoid scratches on the utensils and also make them safe for use. The entire Cutlery set is 100% biodegradable and you can use them withhold guilt of carbon footprint. Handcrafted Bamboo articles have a greater balance between Environment, Society, and economy and hence considered Sustainable.
WHY BAMBOO STRAWS?
It's stronger than steel and is fully biodegradable, and the most important thing. Bamboo Straws do not affect or cause any harm to the Ocean, environment, or wildlife. Bamboo straws are reusable and are unlike the plastic straws that do not decompose.
Are Bamboo Straws Safe?
Bamboo is completely natural and our straws grow without the need for any harmful pesticides or chemicals. The bamboo is steam cleaned and pressure washed and unlike metal straws, do not conduct the heat from hot drinks which may burn your mouth


DID YOU KNOW?
| | | |
| --- | --- | --- |
| | |              Bamboo Helped Thomas Edison Invent The Light Bulb |


Brush with Bamboo's Adult Toothbrush is certified organic adult-sized bamboo toothbrushes. Every part of this product is plant-based: bristles, handle, wrapper, and box. Soft bristles are made from a base of 62% castor bean oil and are made in the USA. The handle is made from Certified 100% Organic Bamboo (by CERES of Germany). The wrapper around the toothbrush is plant-based and compostable. The box encasing the toothbrush is made from paper – no tape or glue is used. Your bamboo toothbrushes can be used for just as long as plastic toothbrushes. The USA certified. Green America certified. BPA-free. Vegan.
Why Bamboo Toothbrush?
Bamboo toothbrushes are naturally antimicrobial. This attribute ensures that bacterial growth is limited extremely. In short, they fight microbes while cleaning your teeth to the possible level of perfection. Even with the antimicrobial attributes, it is advisable to always rinse your toothbrush after use. The bamboo Toothbrush holder is a great companion for your Bamboo Toothbrush. Compared to the electric toothbrushes and plastic toothbrushes, Bamboo toothbrushes are easy to carry.
Key Benefits Of Using Bamboo Toothbrushes:
Eco-friendly
Preserving Oral Hygiene
Sustainability
Aesthetics and Design
Mobility
Sustainable living in the 21st century is about a lifestyle that reduces an individual's or society's use of global natural resources. Check out Sustainable style of living - Part 2 for more eco-products. Sign up to our newsletter to be notified in our multi-part blog series.